Forum rules
If you're posting about vinyl made by any company other than Funko, please use the "It's Not Funko" forum. Thank you!
Posts: 550
Joined: Sat Oct 28, 2017 10:15 pm
I've asked the Funko community if they wanted more Mortal Kombat Pop!s, so why not start a forum on Mortal Kombat 5 Star figures. Would you like to see it happen? if so, which kharacters would you want to see?
---
Posts: 768
Joined: Wed Jan 02, 2019 11:29 am
Location: San Diego
Contact:
I'd like to see Sub-Zero and Scorpion! They were always my favs.
---
Posts: 2372
Joined: Wed Jun 14, 2017 12:50 pm
Location: Scottsdale, AZ
Contact:
I love Mortal Kombat, seeing them as 5 Star figures would be neat. I'd love to see the Ninjas for sure, think they'd transition well over
http://www.instagram.com/berserker.black
---
Collector of the Month

Posts: 4785
Joined: Wed Apr 23, 2014 4:43 pm
Location: Las Vegas
Contact:
Would the head be detachable too? I'm sure they can add a little spine in there that also comes out. I think it might be more likely to see some of the Primal Age type figures with the chests that you press in and it flips around to look damaged.
Grail: Super Freddy
Jason - va1de on Instagram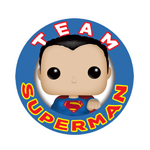 ---
Posts: 780
Joined: Wed Apr 22, 2015 10:09 am
Location: California
jjb11590 wrote:I'd like to see Sub-Zero and Scorpion! They were always my favs.
Agree with this.
ISO: WWE Protos - Please send me a PM!
---
Posts: 114
Joined: Thu Jul 31, 2014 10:37 am
Location: Houston, Texas
Contact:
I think this would be a cool idea.
I'd personally like scorpion, subzero, baraka, noob, and smoke!
Huge lover of Batman and Pixar!
Started collecting in 2013
Pop Count:
ISO: Non Bobble Head Emperor Zurg, 18" Retro Freddy Batman, 18" inch Retro Freddy Robin, DIY Retro Freddy (x3)
---
---
Who is online
Users browsing this forum: No registered users