Forum rules
This section is for general Pop discussion, not showing off your recent acquisitions. Please use the Dance Hall for collection addition pictures.

Please post Funko subscription box and item discussions in the Powered By Funko section.
Posts: 4
Joined: Wed Aug 01, 2018 11:22 am
Location: San Diego, CA
Would love to see Thurgood, Kenny, Brian and Scarface with Killer
---
Posts: 228
Joined: Fri Mar 31, 2017 3:07 am
Location: Kaneohe, hawaii
Contact:
sdlibra77 wrote:Would love to see Thurgood, Kenny, Brian and Scarface with Killer
Count me in but don't forget Samson and Sir Smoke Alot!! Doctor said I need a backiatomy...
Cliffy
IG: The1one1
---
Posts: 17
Joined: Tue Sep 04, 2018 11:12 am
This would also be a perfect opportunity for a snoop pop!
---
Hall of Fame Class of 2011

Posts: 9555
Joined: Tue Jan 22, 2008 2:55 pm
Location: Kitchener, Ontario
I love this movie probably seen it 50 times? However I don't know if I'd buy pops for it, if they were made.
The only team that matters!
---
Posts: 950
Joined: Thu Aug 08, 2013 11:58 am
Location: Las Vegas, NV
Only if they all could talk! LOL
---
Posts: 365
Joined: Fri Jul 28, 2017 1:49 pm
Location: San Jose
Contact:
Oh, this is a great idea. Maybe a movie moment with Squirrel Master and Nasty Nate. "There's this guy Nasty Nate who wants my c*** fruit."



Hi, I'm Jimmy


IG: AutumnsToyz
Total Pops: I lost count after 300
Star Wars Pops: 105
Disney Pops: 67
Star Wars Hikaris: 4
Dorbz: 13
ISO: Freddy Funko's
https://stashpedia.com/u/autumnstoyz/co ... sort=value
---
Posts: 910
Joined: Tue Jul 09, 2013 8:46 pm
Great line that needs to be done
---
Posts: 285
Joined: Mon Jan 09, 2017 8:34 pm
Location: So Cal
Contact:
I've been asking this for a while... If they do a movie moment I would love this scene right here.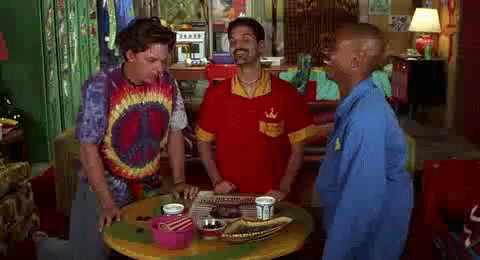 I LIKE GIF's
---
Posts: 243
Joined: Thu Oct 05, 2017 8:31 pm
Location: New York City
Contact:
This would be an amazing line. Short and sweet 5-6 pops and done. Yes you have to make Killer. Killer Kill
Keep spreading that Funko Love...
New York Comic Con: 2014/2015/2016/2017/2018
NYC Fugitive Event 2018
---
Posts: 2620
Joined: Tue Sep 20, 2016 3:11 pm
Location: Little Saigon, California
Contact:
down for anything with dave chapelle
Hey there, I'm Michael and I am an Iron Man Junkie!
Iron Man POP! Collection (Production Pieces): COMPLETE
Iron Man Proto Count: 43
Iron Man Wacky Wobblers: IN PROGRESS
ISO: Gold Mark 2 Iron Man CHASE Wobbler, Gold Mark 1 Iron Man CHASE Wobbler, Gold and Silver 1/12 Freddy Stark Wobblers, and IRON MAN RELATED PROTOS
Check out my IG: @triifeckta
---
---
Who is online
Users browsing this forum: Lakers