This is a quick post regarding the short history of Funko Hikari items, but more specifically, the Star Wars line. As such, it skips a lot of the history of the other lines. If you want to recreate/replicate/cite this post in part or in whole, please contact us prior to proceeding. If you see any inconsistencies, please do let us know so we can correct them.
Feel free to check out our other Star Wars Funko History posts:
Star Wars Wacky Wobblers History
|
Star Wars Holographic History
|
Star Wars Plush History
|
Star Wars Hikari History
|
Star Wars Dorbz History
|
Star Wars Vynl History
In 2014, for the first time ever, the Funko Toy Fair Catalog Revealed the upcoming 7inch Hikari Line and some of them were on display. While they appear solid and large, Hikari are actually fairly light.
You may have noticed that Funko's Hikari are glossy and there is a reason for it. Hikari actually stands for "light" in Japanese ("光"). Their style is also not random. Their deformities and overall forms are inspired by and pay homage to retro 1960s toys from Japan known as Sofubi. Sofubi is a contraction for soft vinyl (Sofuto Bineeru or "ソフトビニール"). Like the Sofubi, even Funko's Hikari are actually to this day sculpted at the factory itself, making them more costly to produce. Unlike many of the other Funko lines, Hikari are a high-end collectors item that is not really meant to appeal to everyone and is more niche. Based on traditional Japanese Sofubi and following many of the same methods for production, Hikari are, contrary to common belief, fairly priced and more often than not, much more affordable than other Sofubi. Brian himself collects Sofubi which is why he likely wanted to bring that type of aesthetic into Funko and why his office is now full of Star Wars Hikari.
Like many other Funko lines, the Hikari line now has see-through window boxes and uses stickers to denote rarity, e.g. 250 pieces. However, some had simple bags as packaging, harkening back to old school toys. During the original announcement, they were shown in a cylindrical package and were supposed to have LEDs.
2014 Toy Fair Catalog with cylindrical box:
Retro bag packaging:
Today:
Hikari are actually also hand numbered and are all limited edition. Another unique feature is the "A/P" or artist proof marking on some of the pieces that were sent as samples before the numbered run. The kicker? You have to open the box to see which # it is!
Lastly, what sets them apart is the the "Hikari Friday" initiative by Funko to announce a new Hikari every Friday. Thankfully, you do not have to sign up for the email list since Funko posts the information every Friday on their blog and social media!
STAR WARS HIKARI
On Dec 10, 2014 during the "12 days of Christmas" reveals by Brian, he announced the upcoming Star Wars Hikari line! He also confirmed separately during a Toy Fair interview that Hasbro actually signed a waiver to allow Funko to produce these.
Brian@Funko wrote:Hikari FEST: Our initial Star Wars Hikari are right around the corner..leading off with Greedo, Clone Trooper, Wampa, Stormtrooper, Boba Fett, Vader, Boosk and C3PO! Also more Marvel is regular size this time: Hulk, Deadpool, Iron Man just to name a few! Also Predator, My Little Pony, Gigantor and Voltron!
The initial ones were shown in the 2015 Catalog & the Toy Fair itself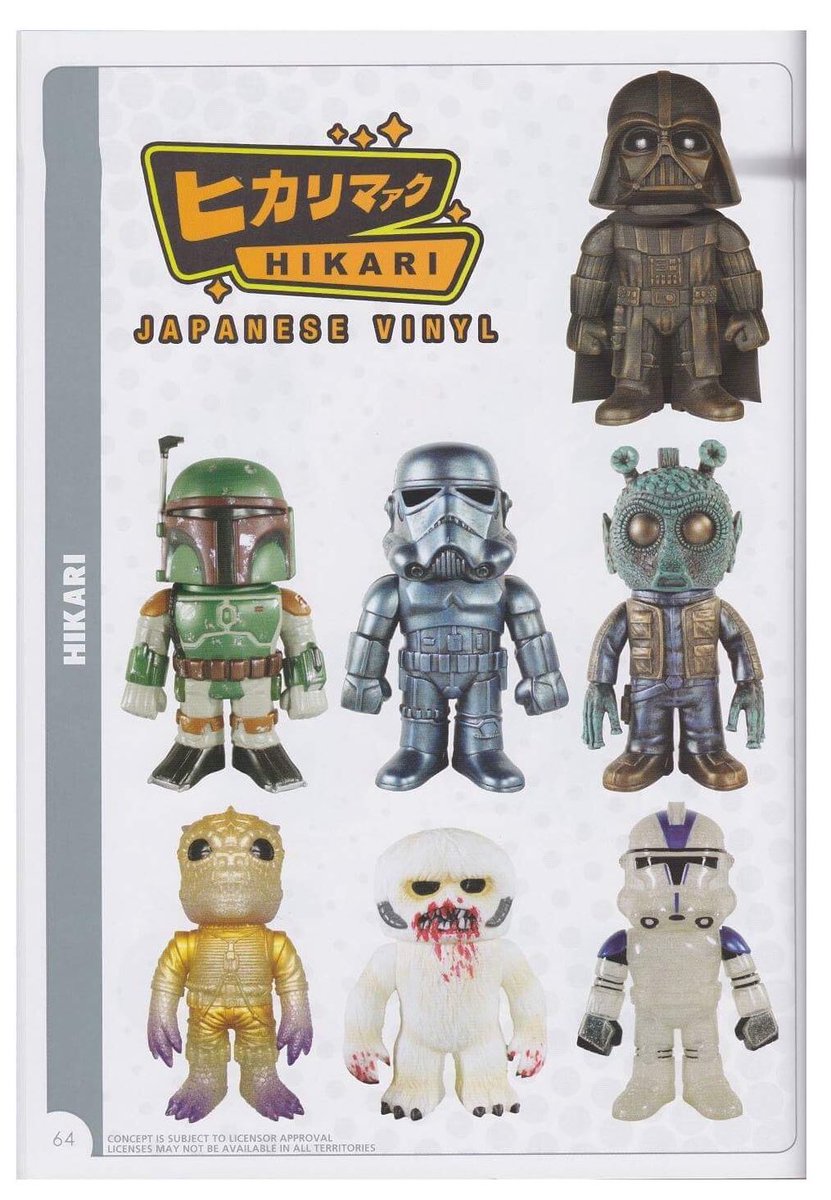 Whether Greedo shot first is questionable but there is no denying he was the first in the Star Wars Hikari line (2017, still no Han Hikari), limited to 2000 pieces. This comes as no surprise since he is Brian's favorite bounty hunter and he has many never-released Greedo variants in his private Hikari collection in his office at Funko HQ.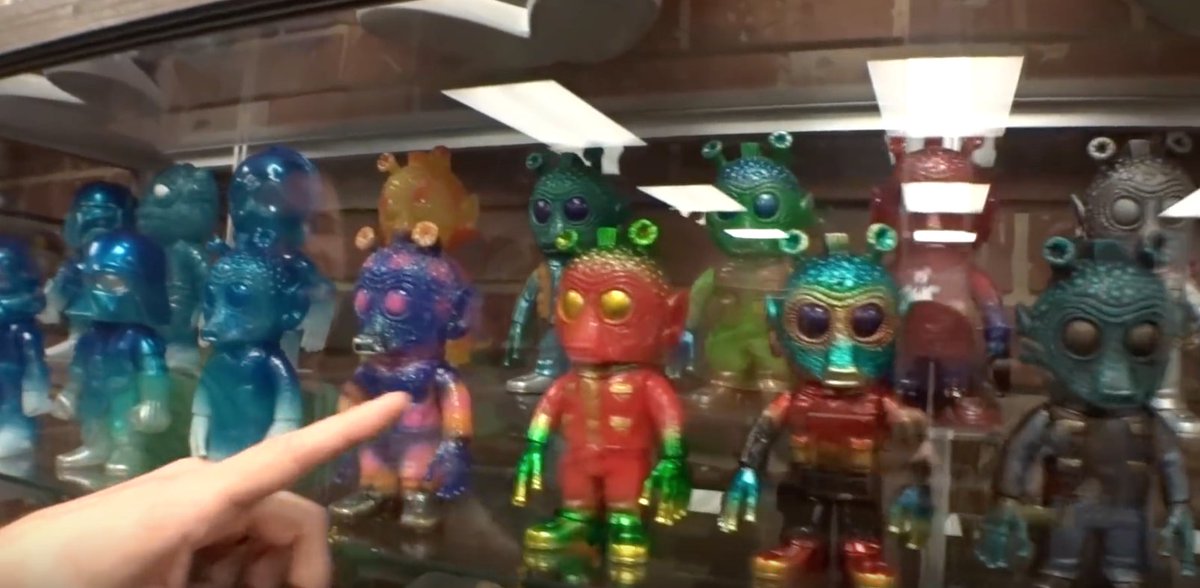 In 2015, the Star Wars Hikari line was in full force and Funko included not one but four Star Wars Anaheim Celebration exclusives that were available at their Booth.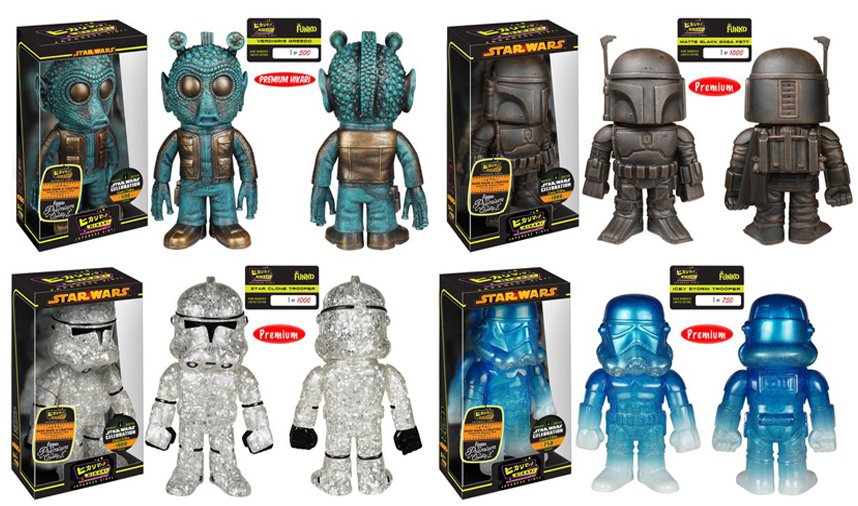 While the typical variants include glitter, metallic, glow in the dark and rusty, Funko has gone out of their way to produce some amazing and unique variants, insuring that there is something for everybody. One such variant is the recently announced "Alloy" Phasma. The Captain Phasma Hikari is actually the first Hikari designed by Senior Product Designer Reis O'Brien who is one of the key figures behind the Star Wars lines by Funko.
STAR WARS MINI HIKARI
As if the regular Hikari line was not enough, in 2016 Funko introduced the 4inch Mini Hikari line through their Rogue One Smugglers Bounty Box. Mini Hikari are essentially high quality collectible vinyl figures that take after their elder sibling, Hikari, with a more compact design. This reflects a trend and understanding by Funko that smaller collectibles means more space for more of them (which is one of the reasons why dorbz, pint size heroes and other lines have been added). Unlike the regular line, Mini Hikari are no longer hand numbered and there are no A/Ps. One Mini Hikari was not enough and so Funko decided to add 5 different color variants to their first Darth Vader Mini Hikari, with the gold being more rare (gold is 1 in 20 and rest - 1 in 5)
The recipe of two POP!s and one Mini Hikari with 5 color variants was soon repeated in the 2017 Rebels Smugglers Bounty where Chopper got the Mini Hikari treatment! This time with different variants that included orange to match the show's theme. While it is not yet official, it appears that the black variant may be the rare one.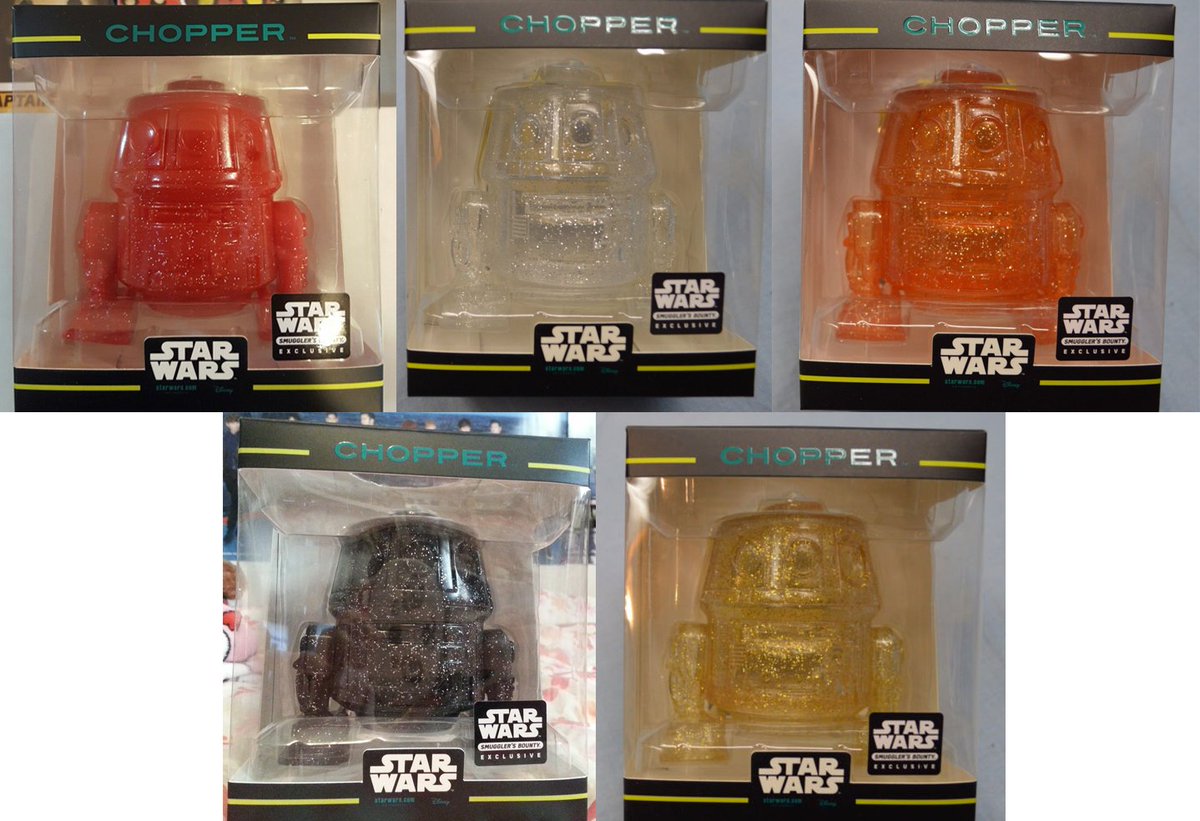 On November 28, 2016 Brian teased a Star Wars Celebration Mini Hikari and on March 23, 2017 during wave 2 of the SWCO announcements, the two 2pack Greedo Mini Hikari variants were revealed, bringing back the Hikari line into the list of celebration exclusives! This is the first time we have seen the Mini Hikari come in packs of two. It is also the first time we have only seen 4 rather than 5 colors so who knows, the 40th Anniversary ANH Smugglers Bounty box is coming...
Brian@Funko wrote:I'm strung out on these. So expect a bunch more with Star Wars celebration right around the corner my favorite Star Wars bounty hunter gets the Chibi Hikari treatment.
Green and Gold: Blue and Clear (Green Glitter) To be continued...
Thank you for reading and May The Funko Be With You!