Posts: 268
Joined: Thu Aug 23, 2018 10:37 pm
Keep your small figures on a convenient little shelf
Coming Soon!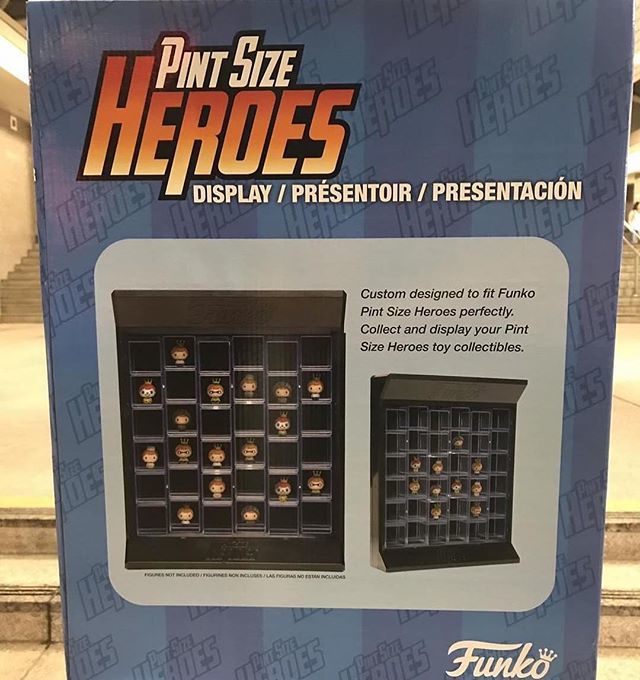 Goal: 100 Pops
Wish List: Earthbound/Mother Pops
Favorite Series: Disney
---
Posts: 1893
Joined: Fri Nov 14, 2014 3:29 pm
Anyone know the price?
1st pop Marvel Thor bobble head and Captain America (2011) Walked into booth at SDCC and purchsed in less than 5 minutes. LOL
FUNKLUB MEMBER #1893
1st dorbz Funko shop Freddy.
ISO CM Punk
---
Posts: 171
Joined: Sun Jan 14, 2018 8:02 pm
Contact:
This looks great. Im working on shelving right now for my pops, so this would be something to think about for displaying my small(but growing Pint size Heroes.
Name: Justin T.
Twitter:
MisfitOutlier
Pops!: 436
-
Dorbz: 8
-
PSH: 16
-
VYNL.: 2
---
Posts: 230
Joined: Wed Sep 27, 2017 4:04 am
Location: Oxford
Yeah, this is pretty great.
---
Posts: 778
Joined: Mon Sep 12, 2016 3:02 pm
This looks really cool, I'll probably pick up a couple for all the pints.
---
Posts: 118
Joined: Sun May 07, 2017 1:25 pm
Contact:
Oh man! I'm gonna need a few of these.
---
Posts: 234
Joined: Thu Sep 08, 2016 7:41 pm
Location: Alhambra, CA
Contact:
Pretty neat for my PSH. I already have nail holder display for them, but definitely would love to see how it looks
Pop!: 1,100+
Dorbz: 120+
ISO: Jollibee Reg. & Metallic
Recent Haul: Gold Chrome Vegeta TT
---
Posts: 787
Joined: Thu Jun 29, 2017 3:12 am
Saw that the case has an interlocking feature so you can display more. Pretty cool!

I am however a little bothered the stacks alternate, I like straight shelves a little better when it's in a case like that.

Still looks super cool and I can't wait to see these roll out and in collectors homes. Hope this means more psh are coming as well! Teen titans and anime lines are on my wishlist!
Pops: 177//Pocket Pops: 10//Dorbz: 6//PSH: 13//Mystery Minis: 26//Rock Candy: 2//Plushies: 6//Tees: 7//Loungefly: 1//Vynl: 1//Vinyl: 1//Wobblers: 1//Protos: 2
Hyped for: Metallic Beast Boy
Hoping for: Kirishima pop
Saving up for: Scott Pilgrim Astro Boy shirt
---
Posts: 778
Joined: Mon Sep 12, 2016 3:02 pm
It would be cool if they made ones for minis sets, especially if they were structured to fit certain sets.
---
Posts: 403
Joined: Tue May 10, 2016 4:39 pm
bakivali wrote:It would be cool if they made ones for minis sets, especially if they were structured to fit certain sets.
Yea or if they just had a bigger layer on the top or bottom rows to fit a couple oversized ones. That would be cool!
ISO: 1/72 Pennywise, 1/24 HT Pennywise Exclusive, 1/72 pennywise Walgreens exclusive, 1/36 pennywise Walgreens exclusive, 1/24 fye pennywise exclusive
---
Posts: 102
Joined: Mon Dec 18, 2017 6:02 pm
I'm not 100% in love with this product. Looks like black plastic with clear plastic compartments. Just visually it doesn't look very high quality, although it may do the job just fine. Pints are pretty easy to find nice display cases for though, since they're about the size of coins, and there are tons of coin collector options.
---
Posts: 265
Joined: Mon May 01, 2017 5:47 pm
Location: Phoenix, AZ
Contact:
supertoygiant wrote:Anyone know the price?
I saw a sticker on it, in a Facebook room. It was 38.90 retail, and 35 for members? They said it was in Singapore, so maybe it'll change. That all being said,... I NEEEEED THIS
---
Posts: 600
Joined: Thu Aug 08, 2013 11:58 am
Location: Las Vegas, NV
This is a great idea! I stepped on a few by accident, they hurt.
---
---
Who is online
Users browsing this forum: No registered users