Forum rules
This section is for general Pop discussion, not showing off your recent acquisitions. Please use the Dance Hall for collection addition pictures.

Please post Funko subscription box and item discussions in the Powered By Funko section.
Posts: 1304
Joined: Wed Mar 14, 2018 8:34 pm
Contact:
nerdandcheese wrote:Bat Mite! That's awesome!
Only one I know is Bat mite from the cartoons. Not familiar with the other Batmans
- Ray
Instagram: grail_collector
---
Posts: 1446
Joined: Sun Apr 20, 2014 2:16 pm
Location: Tijuana, Mexico.
Contact:
Totally need this ones,, great desing funko is getting better and better
Kyko here !!

Tijuana The Happiest Place on Earth !!
Fundays 2015
Fundays 2016
Funko Fright Night
Fundays 2017
Premiere Making Fun
Fundays 2018
Fundays 2019
HQ Hollywood Opening 2019
ECCC VIrtual Con 2020
Summer Virtual Con 2020
---
Posts: 1711
Joined: Tue Jul 21, 2015 8:26 pm
Bat Mite and Red Son Batman look sooo good
---
Posts: 1224
Joined: Wed Oct 19, 2016 10:36 pm
Location: Los Angeles
Contact:
The details and these are amazing. Love how the recent batman molds are completely different than what we are used to.
MAKING FUN PREMIERE
FDO8
FUNKO HOLLYWOOD GRAND OPENING
SDCC 06-07 15-19
FUNDAYS 18-19
---
Collector of the Month

Posts: 4895
Joined: Wed Apr 23, 2014 4:43 pm
Location: Las Vegas
Contact:
Finally another Red Son Pop. The Metal series is crazy and it's great to see them coming.
Grail: Super Freddy
Jason - va1de on Instagram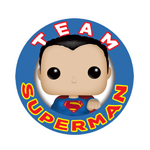 ---
Posts: 862
Joined: Sun May 04, 2014 2:30 pm
Location: Southern Cali
Merciless Batman is definitely the coolest looking one of the 3
---
Posts: 5370
Joined: Thu Aug 08, 2013 11:58 am
Location: Las Vegas, NV
Contact:
Batman is Funko's bread & butter!
---
Posts: 3844
Joined: Sat Apr 28, 2018 6:57 pm
Location: Bakersfield,CA
Contact:
The batman line is growing at a rapid rate but honestly it has always been a staple even in the beginning tbh
---
Posts: 27
Joined: Tue Aug 06, 2019 5:33 pm
Location: Los Angeles
I'll be getting the Bat-Mite for sure. I love that Funko's making progress through the Elseworlds characters. I wonder what kind of market research goes into how they choose which iterations they choose to produce.
---
Posts: 1552
Joined: Mon Apr 23, 2018 12:12 am
Location: San Diego Ca
Contact:
Lawliet wrote:Days like these I really dont regret being a Batman collector. I really love the variety of it all!!
Preach !!! Love Batman. I have a wall dedicated to Batman. I need the blue chrome and any of the new upcoming Batman's so I can finally put them all in a shelve.
---
Posts: 257
Joined: Thu Jul 27, 2017 12:37 pm
Location: Connecticut
joecolt wrote:Merciless Batman is definitely the coolest looking one of the 3
Agreed! It is a must have for me right now. Can't wait for the rest of them to come out...but seems to be taking a bit between each one and i'm very impatient!!!
SDCC - 2013, 2014, 2015, 2016, 2017, 2018, 2019, 2020ish
Funko Fundays - Not yet! 5 years trying, 5 years failing. Fingers crossed for 2021!!
Pop Count - 143
https://www.instagram.com/supenman/
---
---