This is a quick post regarding the history of Wacky Wobblers, but more specifically, the Star Wars line. As such, it skips a lot of the history of the other lines. If you want to recreate/replicate/cite this post in part or in whole, please contact us prior to proceeding. If you see any inconsistencies, please do let us know so we can correct them.
Feel free to check out our other Star Wars Funko History posts:
Star Wars Wacky Wobblers History
|
Star Wars Holographic History
|
Star Wars Plush History
|
Star Wars Hikari History
|
Star Wars Dorbz History
|
Star Wars Vynl History
In 1998, Funko was formed by Mike Becker and their very first product was actually a Wacky Wobbler - Bob's Big Boy. He got the licensing rights because he wanted a coin bank of the character but did not want to pay the insane collectors prices for the existing item ($1000+)
In 2007, after Brian Mariotti was already in control of Funko (Announced Fundays #3 in 2005), he announced the agreement with Lucasfilm to produce Star Wars Wacky Wobblers! This meant that Funko can apply its beloved wobbler style to the gicantic license that is Star Wars and allow for fans to see their favorite characters reimagined in a new form. This was huge news for Funko and evidence of their growth and increasing respect in the collectibles community. (See
Brian's post
)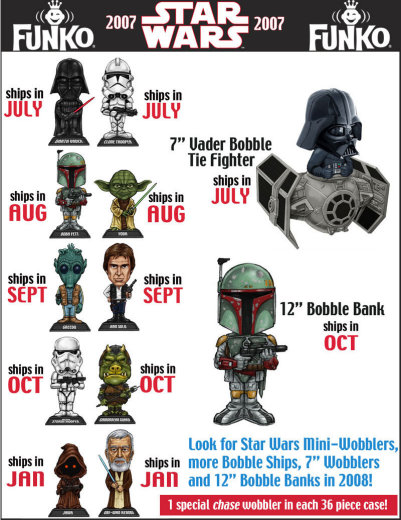 Along with July's first wave of Vader and Clone Trooper, Funko released Holo Vader and Shock Trooper at SDCC 2007.
Additionally, in 2007 Entertainment Earth had what they called a "Holiday" Boba Fett. It was Boba Fett Droids (holiday special), a repaint of the regular, 2000pcs.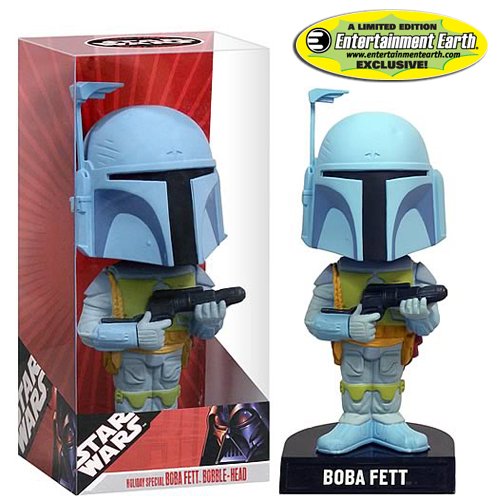 JobaFett wrote:My Contribution since I like taking bland background pics

I do have a bit of trivia to add here though. Originally, the darth vader wobbler was going to have a smaller head (images 4 and 5 below), however they decided to increase the size for the final production pieces (images 1-3 below). What is odd, is that the holo vaders (images 6 & 7 below) still retained the original smaller head.
Series 1 made it into the 2008 catalog (along with series 2)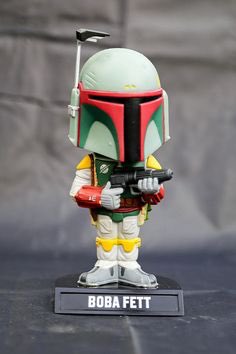 It is interesting to note that Wacky Wobbler rides were introduced with Series 1 (Vader with tie fighter) and Series 2 (Luke with x-wing). Vader also had a chase variant with a black tie fighter.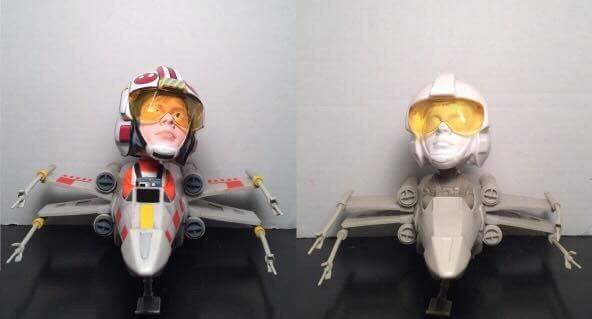 In 2008, Entertainment Earth also got it's first true "Holiday" full size Wacky Wobbler Vader, also 2000pcs like their 2007 Boba.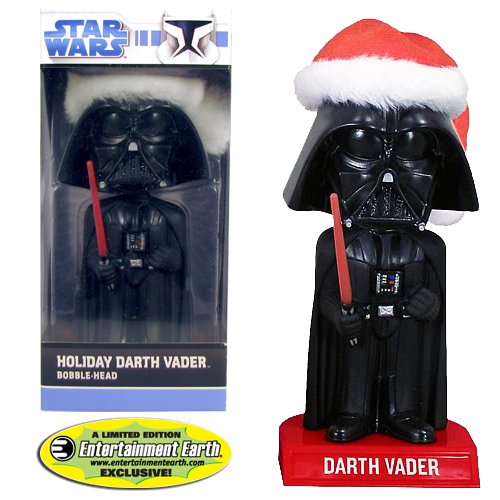 Also in 2008, Funko added Holiday Yoda and Jawa. In 2009, Vader and C-3PO. And finally in 2010, R2-D2 (image from 2010 catalog when we first see them printed)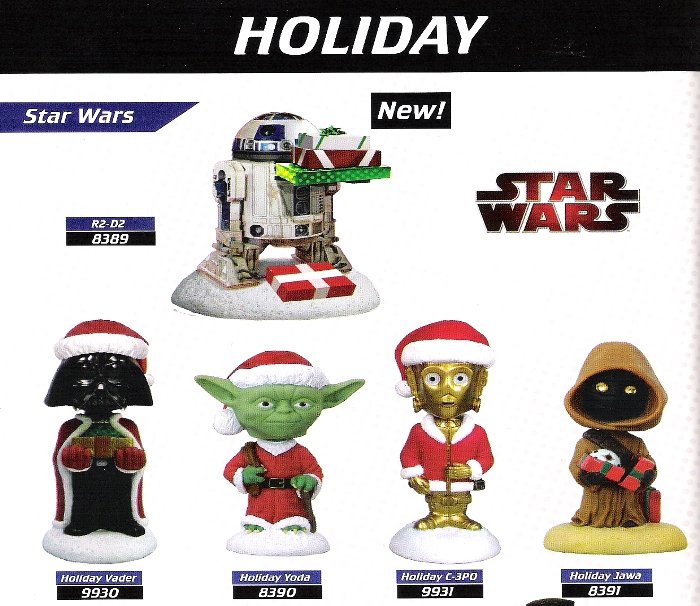 Starting with Vader in 2008, Funko made Computer Sitters that came with 3M sticky tape on the bottom to place on top of your monitor; by 2011, all 3 were included in the Toy Fair Catalog.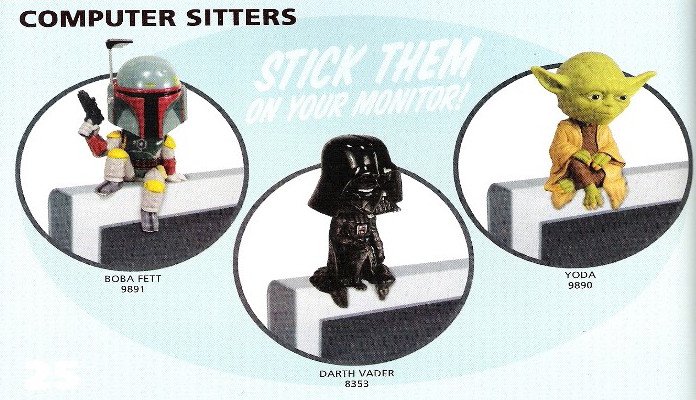 In 2010, Funko introduced the Monster Mash up series where they mixed Star Wars characters with universal monsters that included the following 4.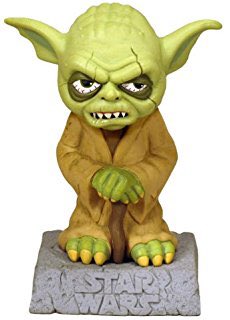 In 2011, Funko introduced WiseCracks, a new line that had clever puns on the bases of the StarWars wobblers. The image below is from the 2014 catalog and includes the newly added Han & Chewie.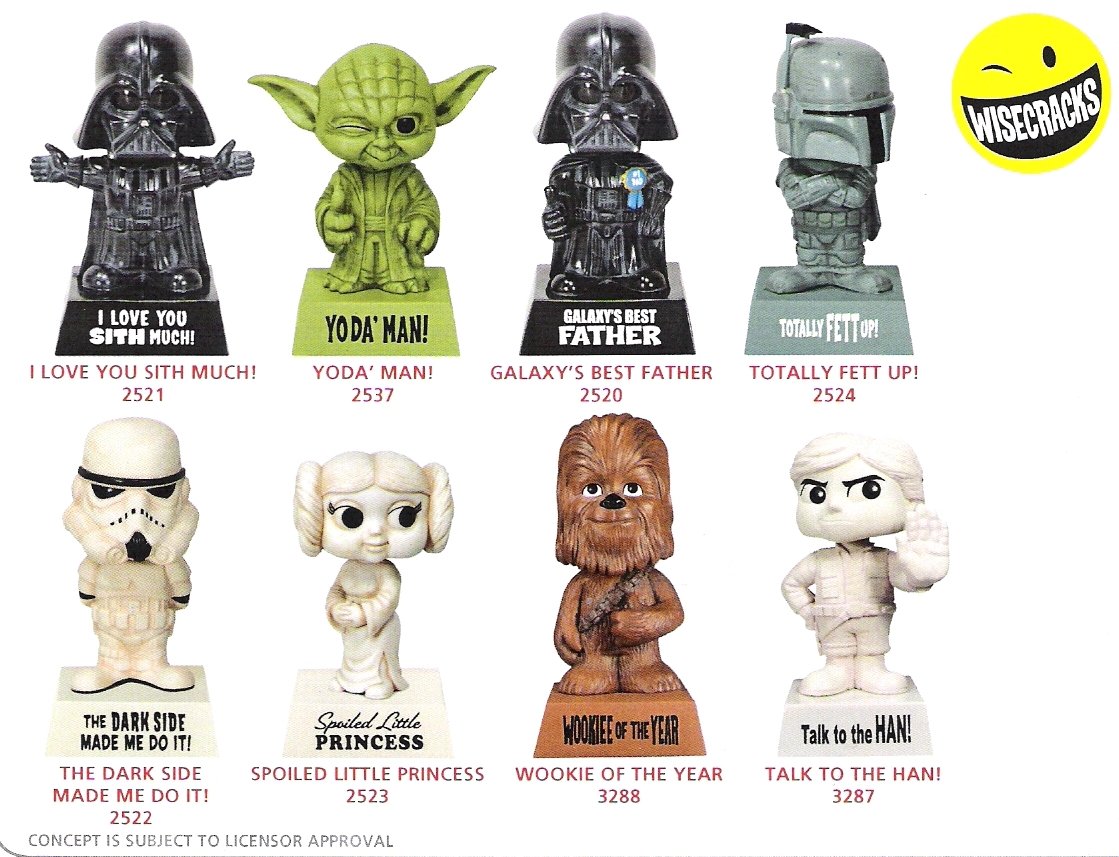 In 2011, Monster Mash up minis were introduced (~4.5inch vs 7), adding jawa and tusken raider. It is unclear whether they were designed with the intention of making them minis, but them and the original monster mash up line from 2010 were made into the minis.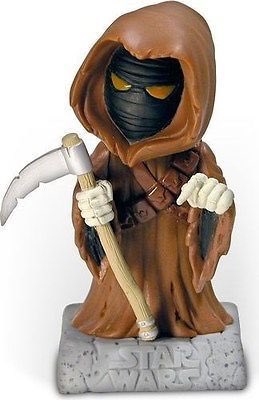 Trivia - Maul's monster artwork was revealed in the 2011 catalog but was never made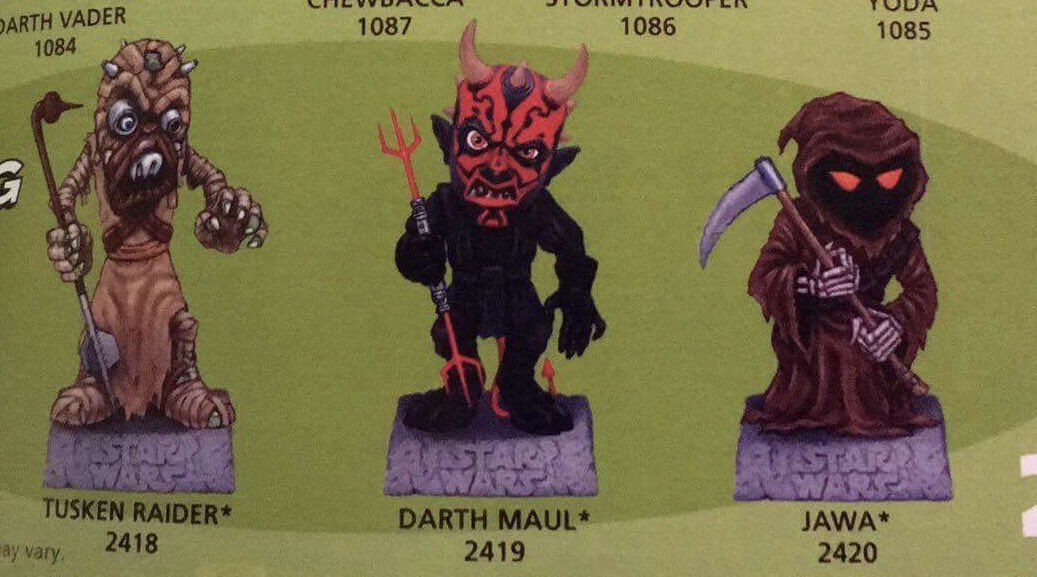 In 2013, the Angry Birds Star Wars Mash up became a thing. Lasted about as long as the game's popularity.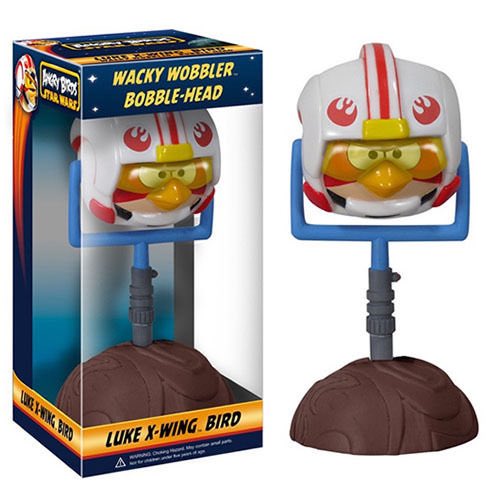 More importantly, in 2013, the catalog featured the new *Mini* wobblers/bobble heads line up (made in 2010)! They were sold in sets of 2 and there were 3 different sets to choose from. They really are mini!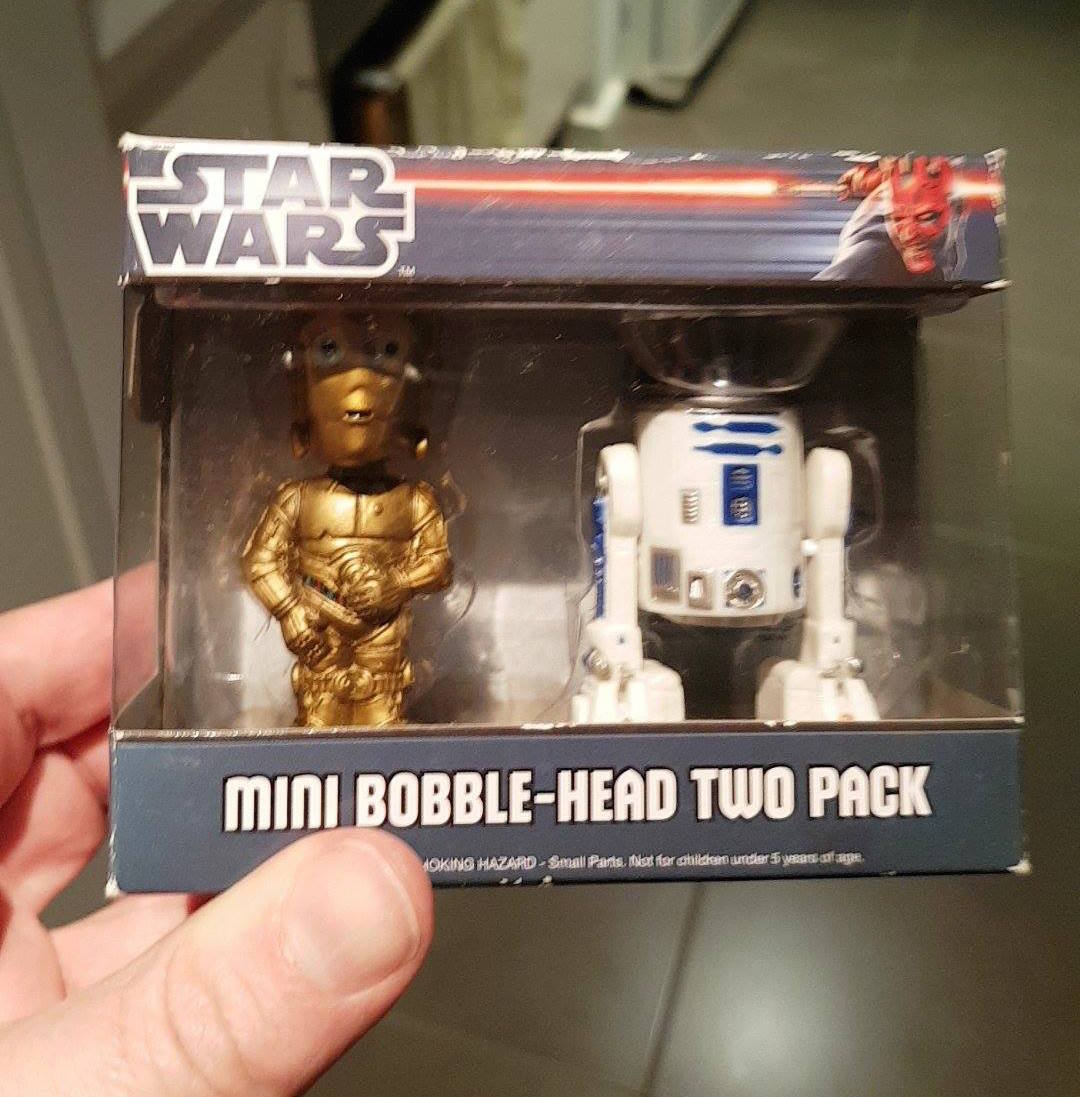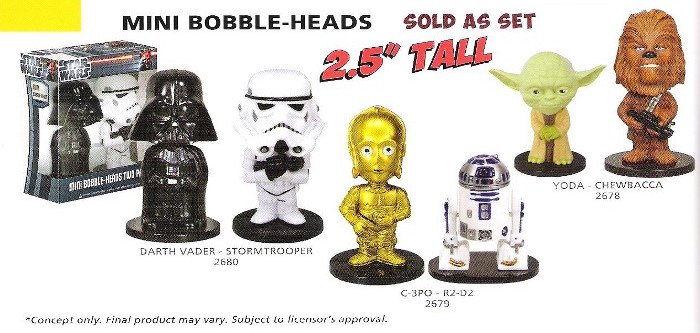 JobaFett wrote:A little bit of additional mini wobbler info. There is actually a 5 pack that's missing Chewbacca and also as single 'blind boxes', given away with certain purchases from what I believe was a Scholastic catalogue (the one you got books from in school). They weren't really blind boxes though because each one had a unique UPC.

I might have some of those facts mixed up, it's been a long time since I bugged someone for that information
In 2016 the Wobbler line (no longer wacky) was introduced during ECCC and the Star Wars line was added in August, including iconic characters such as Leia and Boba Fett. These Wobblers combine the stylized appeal of Pop! with traditional bobblehead design.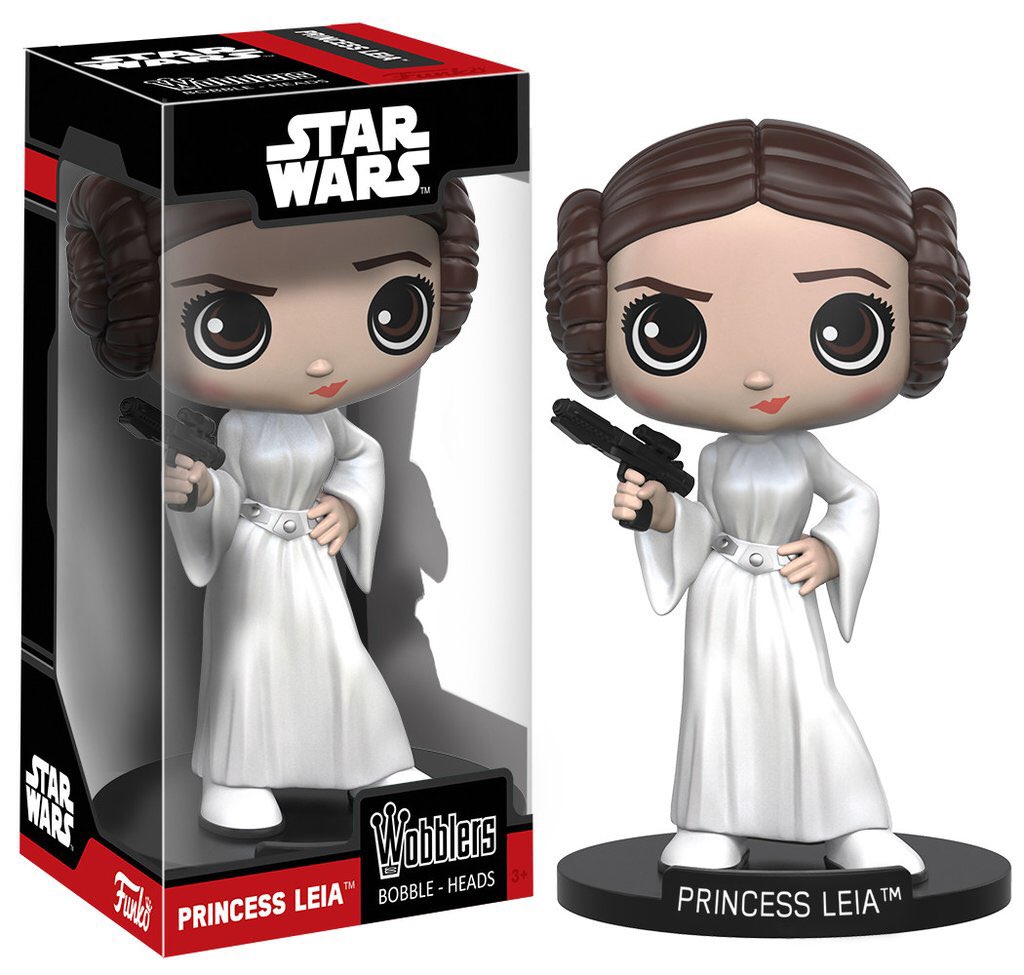 Soon after the same 2016 year, the line was expanded to include new Rogue One characters such as Jyn Erso
During ECCC, Yoko also showed a slide with Kylo and Rey wobblers which we have yet to see. Given that they are TFA style, they may have been cancelled but it seems like they were far along in development so hopefully not.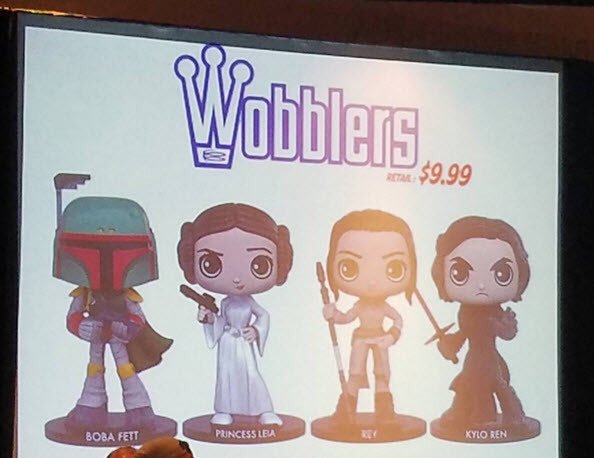 In March 2017 the first Con exclusive Wobbler from the new line was introduced. A repaint of the Boba announced in 2016 but this time white (proto armor) for Star Wars Celebration.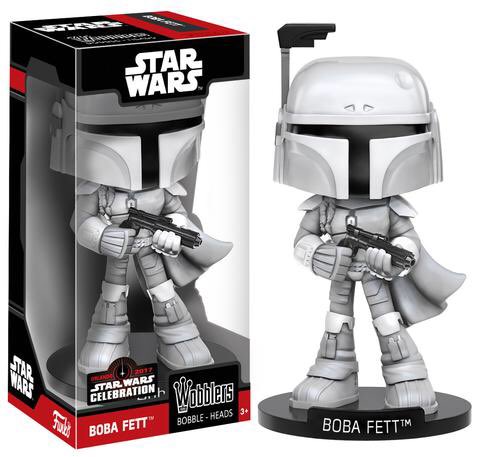 In August of the same year, Funko revealed The Last Jedi Wobblers, which include ones such as this adorable Chewie with Porg.
In 2018, along with the other Solo merch, a few Wobblers were added, including the smooth talking smugglers - Lando.
Thank you for checking this out