Dsho333 wrote:

ComicsZombie wrote:

Jade-Rex wrote: Right there with ya! Beast Boy will be my first Non-Freddy soda.

I'm upset about the difference in the image on the can and the figure. They are different. Lol.

Yeah for sure, I wouldve gotten it had it been from Teen Titans the animated show, not Teen Titans Go!
Lol. i hear this argument all the time, and I get it. It's not the same show. It wasn't meant to be. I can enjoy both. To be honest I would have gotten it if it was Beast Boy from the Doom Patrol comic in the 50's, from the New Teen Titans in the 80's, Titans, Teen Titans: TAS, Ravagers (red Beast Boy, because his power was linked to "The Red" which is the mystical force of animal powers, much like Swamp Thing's connection to "The Green"), Teen Titans Go, any number of the variants of the character in the Teen Titans Go series (Martian Manhunter, Green Lantern, Green Lantern Holograph, Cat, Lazy Dog, Man Boy, TNBTS Beast Boy, Old Beast Boy, The Calf, etc.), a Young Justice Beast Boy, an animated movie Teen Titans Beast Boy, and the DCUniverse/HBO Titans Beast Boy. I love the character in all his itterations, each for a different market and all of them enjoyable. Am I sad that the can shows TTG Beast Boy while the figure is TNBTS Beast Boy? Yes, because that means we probably won't get a regular one (or TTG Beast Beast Boy as it were).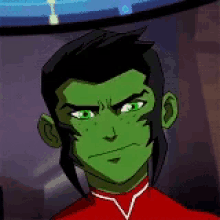 I really need Funko to make a "Changeling" Pop though. (From New Teen Titans, red and white uniform, where he was trying to change his superhero name)