Funko we need our ponies back! Please sign this petition if you would like for Funko to release the Queen Chrysalis and Nightmare Moon Vinyl figures, and continue making more MLP characters in the future. Or if you would like to support the collectors out there! Save what was going to be and what could be!
http://www.change.org/p/6383783
Thanks for the picture donations! Be sure to use the #savethefunkoponies as well!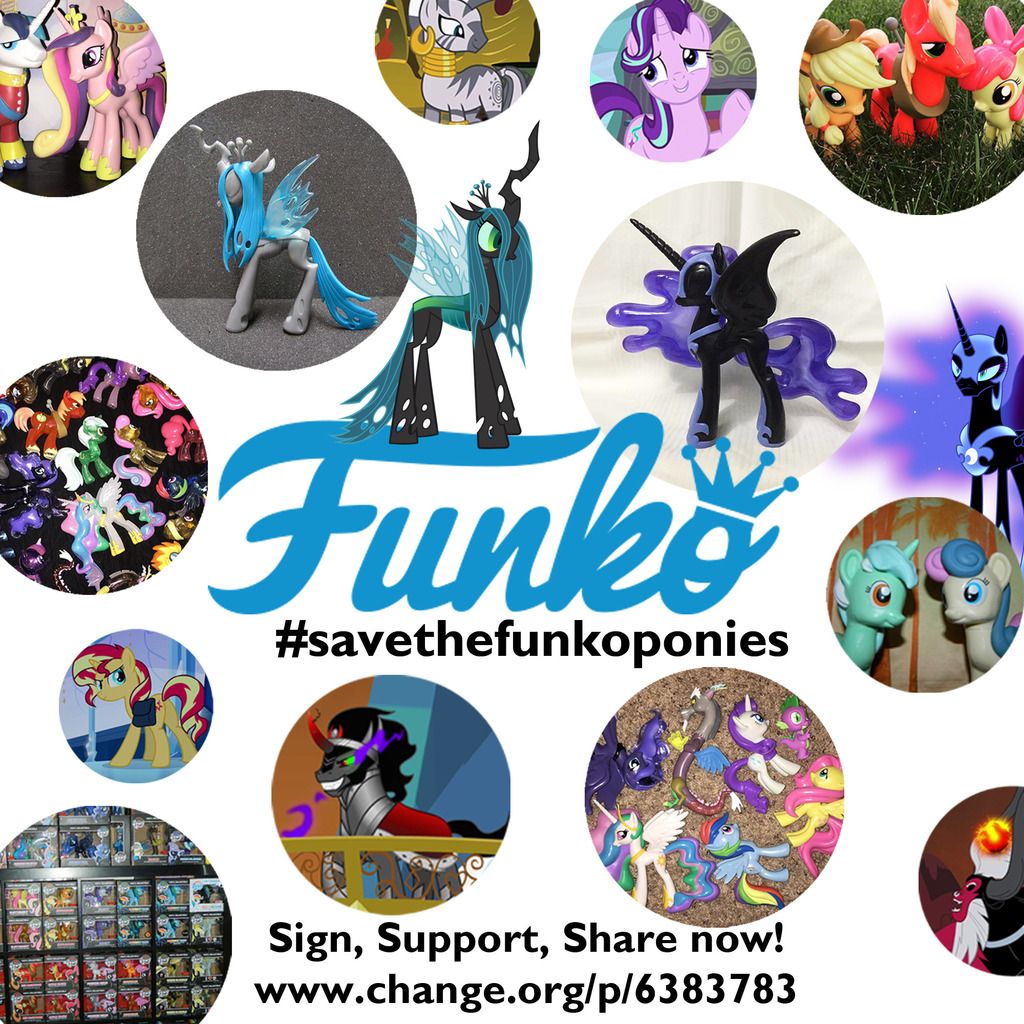 Wave 1: 2012
Rainbow Dash (Purple Eyed)
Derpy Hooves (5 Bubbles)
Wave 1 Revision: 2013
Rainbow Dash
Derpy Hooves
Wave 2: 2013
Fluttershy
Fluttershy Glitter
Dr. Whooves Red Tie
Dr. Whooves Green Tie (HT Exclusive)
Dr. Whooves Glitter
SDCC Exclusives: 2013
Rainbow Dash Glitter
Derpy Hooves Glitter
Wave 3: 2013
Pinkie Pie
Pinkie Pie Glitter
Lyra Heartstrings
Lyra Heartstrings Glitter
Wave 4: 2013
Sweetie Drops (TRU Exclusive)
Spitfire (TRU Exclusive)
Think Geek Exclusive: 2013
Glow in the Dark Dr. Whooves
Wave 5: 2013
DJ-PON3
DJ-PON3 Glitter
Octavia Melody
Octavia Melody Glitter
Wave 6: 2014
Princess Twilight Sparkle
Princess Twilight Sparkle Glitter
Trixie Lulamoon
Trixie Lulamoon Glitter
Wave 4 Revision: 2014
Sweetie Drops Glitter
Spitfire Glitter
Wave 7: 2014
Applejack
Applejack Glitter
Big Mcintosh
Big Mcintosh Glitter
SDCC Exclusives: 2014
Black DJ-PON3
Black Spitfire
Wave 8: 2014
Rarity
Rarity Glitter
Daring Do Dazzle
Daring Do Dazzle Glitter
Discord
Discord Glitter
Target Exclusives: 2014
Black Rainbow Dash
HT Exclusives: 2014
Blue Flu Discord (HT Exclusive)
Metallic Rainbow Dash (HT Exclusive)
Wave 9: 2014
Princess Celestia
Princess Celestia Glitter
Princess Luna
Princess Luna Glitter
Wave 10: 2015
Princess Cadance
Princess Cadance Glitter
Shining Armor
Shining Armor Glitter
Spike
Spike Glitter
Wave 11: 2015
Sweetie Belle
Sweetie Belle Glitter
Apple Bloom
Apple Bloom Glitter
Scootaloo
Scootaloo Glitter
Wave 12: 2015
Cheese Sandwich
Cheese Sandwich Glitter
Maud Pie
Maud Pie Glitter
Wave 13: (Expected Spring 2016)
Queen Chrysalis
Queen Chrysalis Glitter
Nightmare Moon
Nightmare Moon Glitter
Link to all released Funko Ponies:
http://data.mlpmerch.com/funko-figures/